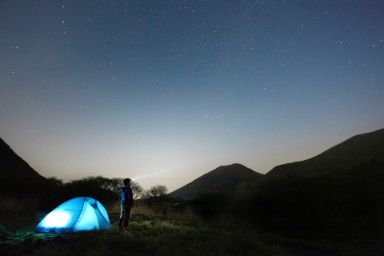 Wakacje pod namiotem – jak je zaplanować?
Wakacje zaczynają się już lada dzień, dlatego większość z nas zaczyna tworzyć wakacyjne plany. Nie zawsze muszą one uwzględniać pobyt w luksusowym kurorcie, czy nawet ośrodku wypoczynkowym. Równie dobrze możemy się bawić spędzając wakacje pod namiotem. Ale jak zaplanować taki wypoczynek z małym dzieckiem?
Mogłoby się wydawać, że wakacje pod namiotem wymagają od nas więcej tak zwanego zachodu, jednakże w rzeczywistości wcale tak nie jest, jeżeli tylko będziemy działać przemyślanie. Dlatego zakupu namiotu i wyboru docelowego miejsca podróży nie warto zostawiać na ostatnią chwilę, zwłaszcza jeśli planujemy dłuższy wypoczynek. Pośpiech z reguły nie jest dobrym doradcą i w tym przypadku warto się go wystrzegać. Jak więc zaplanować rodzinne wakacje pod namiotem, żeby sprawiły prawdziwą przyjemność?
Jaki namiot wybrać na rodzinne wakacje?
Planowanie wakacji pod namiotem z całą rodziną z pewnością należy zacząć od wyboru namiotu. Z pewnością najlepiej sprawdzi się taki model, który skutecznie nas ochroni przed deszczem. W końcu nikt nie chciałby, żeby w takcie jego wakacji zdarzyła się ulewa, które zmoczy wszystkie rzeczy do ostatniej suchej nitki. Dlatego warto sprawdzić poziom wodoodporności wybranego przez nas namiotu.
Nie bez znaczenia jest wielkość namiotu. Jeżeli planujemy pojechać wakacje na przykład z naszym życiowym partnerem i dzieckiem, to pomysł zakupu namiotu mniejszego, niż mieszczącego dwie osoby z pewnością nie będzie trafiony. Dobrym pomysłem może się okazać zakup nawet większego, na przykład czteroosobowego namiotu. Dzięki temu nie tylko będziemy mieli wystarczająco dużo miejsca do spania, ale bez problemu zmieścimy również wszystkie nasze rzeczy.
Ile kosztuje namiot?
Coraz większą popularnością cieszą się namioty z oddzielną, podwieszaną sypialnią i przedsionkiem. To wygodne rozwiązanie na długie wakacje pod namiotem. W sytuacji, w której trafi się deszczowy dzień będziemy mieli miejsce na to, żeby chociażby zagrać w rodzinną grę i rozprostować nogi, o ile zdecydujemy się na dość wysoki model. Takie rozwiązanie umożliwi również rozłożenie zabawek dla dziecka, żeby zająć mu czas podczas brzydkiej pogody. Ceny namiotów czteroosobowych są zróżnicowane, model ze średniej półki możemy kupić za około 400 – 500 złotych.
Wakacje pod namiotem w Polsce – najciekawsze miejsca
Jeżeli mamy już wybrany namiot, to pora szukać miejsca na wakacje. Wybierać możemy spośród wielu polskich kempingów. Pięknym miejscem jest pole Bradysówka, położone w Dolinie Będkowskiej, w niedalekiej odległości od Krakowa. W tym miejscu odpoczniemy w ciszy i spokoju, otoczeni pięknymi widokami.
Jeżeli z kolei wolimy wakacje spędzić nad wodą, to na udany wypoczynek możemy udać się na przykład do kempingu Chałupy 6. Leży on nad zatoką Pucką, idealnym miejscem do uprawiania windsurfingu. Fani aktywnego wypoczynku z pewnością będą zadowoleni!
Wakacje pod namiotem w Europie – czy to możliwe?
Wakacje pod namiotem w Europie to coraz częściej spotykane rozwiązanie. Ciekawym kierunkiem takiej podróży jest na przykład Bawaria w Niemczech. W nieziemskich Alpach Bawarskich znajduje się malownicze pole namiotowe. Rozpościera się z niego widok na jedno z najcieplejszych w tej okolicy jezior i alpejskie wzgórza. W pobliżu znajduje się również Zamek Neuschwanstein.
Innym ciekawym miejscem wakacyjnych podróży z namiotem jest Blåvand w Danii. Decydując się na ten kierunek możemy odpocząć na malowniczej plaży położonej nad Morzem Północnym. W tym miejscu bez problemu możemy spędzić noc pod gwiazdami, ciesząc się pięknym widokiem. Morze w tym miejscu jest spokojne i płytkie, więc nie będziemy musieli obawiać się o bezpieczeństwo naszych dzieci.
Pożyczka na wakacje pod namiotem
Wakacje pod namiotem są zdecydowanie tańszą opcją niż takie w ośrodkach wypoczynkowych, czy hotelach. Dlatego warto wybrać taką formę wypoczynku, jeżeli chcemy spędzić wakacje niskim kosztem. W zebraniu niezbędnych funduszy na wakacje pod namiotem pomoże szybka pożyczka przez internet na stronie PozyczkaPlus.pl. O pierwszą pożyczkę do 3 000 złotych możemy wnioskować całkowicie za darmo, a maksymalna kwota następnych pożyczek to aż 10 000 złotych. To z pewnością pozwoli na rodzinne wakacje pod namiotem bez żadnych ograniczeń, nawet za granicą.
Pierwsza pożyczka
Kolejna pożyczka
Koszt pożyczki

0 zł

0 zł

RRSO

0%

0%

Kwota do zwrotu

01.01.2021

0 zł

0 zł
Formularz informacyjny
Reprezentatywny przykład
Reprezentatywny przykład pożyczki internetowej na dzień 01.07.2021 r.:
Jednorazowa opłata rejestracyjna wynosi 0,01 zł. Dla przykładowej pożyczki na kwotę 1 000 zł na 30 dni RRSO, tj. Rzeczywista Roczna Stopa Oprocentowania wynosi 1926%, przy założeniach: całkowita kwota pożyczki 1 000 zł, stała roczna stopa oprocentowania RSO 7,2%, całkowity koszt 279,92 zł, w tym Prowizja 274 zł i odsetki kapitałowe 5,92 zł, a całkowita kwota do spłaty: 1 279,92 zł.
Promocja
Dla pierwszej pożyczki na warunkach promocyjnych "Pierwsza pożyczka za darmo" na kwotę 1 000 zł na 30 dni RRSO, tj. Rzeczywista Roczna Stopa Oprocentowania wynosi 0%, przy założeniach: całkowita kwota pożyczki 1 000 zł, stała roczna stopa oprocentowania RSO 0%, całkowity koszt 0 zł, w tym Prowizja 0 zł i odsetki kapitałowe 0 zł, a całkowita kwota do spłaty: 1 000 zł, z zastrzeżeniem terminowej spłaty.
Pożyczkodawcy udzielają również pożyczek na warunkach Promocyjnych, w tym pożyczek darmowych, zgodnie z warunkami ustalanymi w Regulaminach Promocji. Promocja obowiązuje pod warunkiem terminowej spłaty pożyczki.