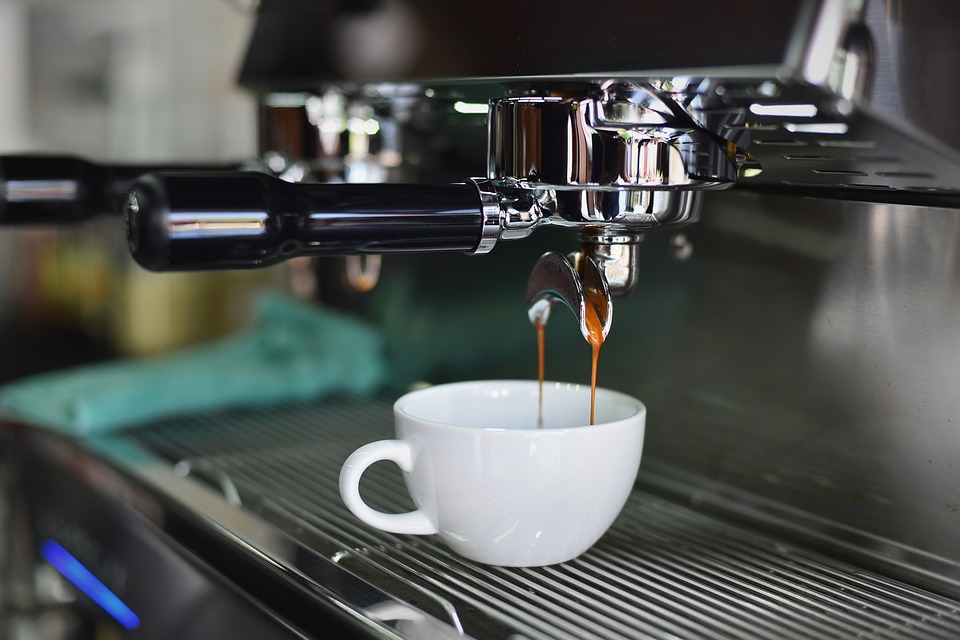 Ekspres do kawy – na co zwrócić uwagę?
Marzeniem każdego prawdziwego kawosza jest porządny ekspres do kawy. Ale co właściwie oznacza porządny w przypadku ekspresu? I ile może kosztować taki sprzęt? Lepszy będzie ekspres kapsułkowy, przelewowy, czy ciśnieniowy? Podpowiadamy, czym się kierować przy zakupie ekspresu do kawy.
Coraz więcej osób rezygnuje z kawy rozpuszczalnej i decyduje się na zakup ekspresu do kawy. Najczęściej wynika to z tego, że poznaliśmy smak dobrej kawy w kawiarniach i restauracjach, i taką też chcemy się cieszyć w ulubionym fotelu. Możemy wybierać spośród wielu różnych modeli, od wersji podstawowych po bardziej zaawansowane. Jak nietrudno się domyślić, nie każdy z nas w domu potrzebuje ekspresu z najwyższej półki. Jak wybrać odpowiedni do naszych potrzeb, żeby niepotrzebnie nie przepłacać?
Czy warto kupić ekspres kapsułkowy?
Ekspres na kapsułki bardzo często jest najtańszym rozwiązaniem. Jednak nie sprawdzi się w przypadku każdego z nas. Ekspres na kapsułki jest rodzajem ekspresu ciśnieniowego automatycznego, a jego obsługa nie wymaga od nas zbyt wiele wiedzy i wysiłku. Zanim jednak zdecydujemy się na jego zakup, skuszeni głównie ceną, musimy sobie zdawać sprawę z kilku rzeczy.
Po pierwsze – w ekspresach tego typu najczęściej można używać tylko i wyłącznie jednego rodzaju kawy, czyli tej przewidziane przez producenta. To znaczy, że jeżeli kupimy ekspres wspierany np. przez markę Jacobs, to właśnie takiej kawy będziemy mogli w nim używać. Oprócz tego musimy liczyć się z tym, że większość tego typu ekspresów nie posiada funkcji spieniania mleka. Jeżeli jednak wyżej wymienione kwestie nie stanowią w Twoim przypadku problemu, to z ekspresu kapsułkowego z dużym prawdopodobieństwem będziesz zadowolony. Zwłaszcza, że jego obsługa jest naprawdę prosta – wystarczy włożyć kapsułkę w odpowiednie miejsca i czekać, aż kawa będzie gotowa. Zajmuje to naprawdę chwilę.
Ekspres do kawy przelewowy – u kogo się sprawdzi?
Ekspresy przelewowe bez wątpienia mogą znaleźć swoje grono wielbicieli. Ten typ sprzętu powinien się sprawdzić szczególnie dobrze w przypadku osób, które najbardziej lubią zwykłą, czarną kawę. Bowiem właśnie taką zrobi nam ekspres przelewowy. Jego zasada działania jest naprawdę bardzo prosta. Woda podgrzana do odpowiedniej temperatury przelewa się przez kawę umieszczoną w papierowym filtrze i powoli skrapla do dzbanka. Musimy się jednak liczyć z tym, że napełnienie całego dzbanka może zająć dłuższą chwilę.
Jeżeli zależy nam na tym, żeby kawa przez dłuższy czas trzymała odpowiednią temperaturę warto wybrać taki model, który posiada wbudowany podgrzewacz w podstawkę dzbanka. Wówczas kawa nie będzie tak szybko stygła, jeżeli tylko urządzenie będzie włączone. Niektóre modele ekspresów przelewowych mają wbudowany młynek, więc mamy możliwość cieszenia się smakiem świeżo zmielonej kawy. A taka zdecydowanie smakuje najlepiej.
Ekspres ciśnieniowy – najlepszy wybór?
Ekspresy ciśnieniowe to zdecydowanie najszersza kategoria. Należą do niej nie tylko wspominane wcześniej ekspresy kapsułkowe, ale i wiele innych modeli. To również najbardziej zaawansowane sprzęty, które bez problemu zmielą nam kawę, spienią mleko i przygotują pyszną latte. Możemy wybrać ekspres automatyczny – to zdecydowanie najlepsza opcja dla osób, które oczekują dobrej kawy bez zbędnego zagłębiania się w szczegóły.
Dostępne są również ekspresy kolbowe. To już nieco wyższa szkoła jazdy, bo potrzebujemy do niego już uprzednio zmielonej kawy. Dlatego często taki zakup idzie w parze z zakupem młynka. Ekspresy kolbowe mogą posiadać dyszę do spieniania mleka, w zależności od tego, na zakup jakiego modelu się zdecydujemy. To dobry wybór w przypadku osób, które lubią mieć większą kontrolę nad przygotowywaną kawą.
Ile kosztuje ekspres do kawy?
Jak już wcześniej wspomnieliśmy, jedną z tańszych opcji w zakupie będzie ekspres kapsułkowy. Taki możemy kupić już nawet za 200 złotych. Musimy się jednak liczyć z tym, ze po dodaniu kosztów eksploatacji już wcale nie wychodzi tak tanio. Przelewowy ekspres do kawy to również nie jest drogi interes, opcję bez młynka do kawy możemy zakupić już za mniej niż 200 złotych. Z kolei ekspres tego typu z wbudowanym młynkiem to koszt około 300 – 400 złotych.
Do najdroższych należą automatyczne ekspresy ciśnieniowe. Warto jednak dołożyć do takiego sprzętu, jeżeli kawę pijemy często i nie wyobrażamy jej sobie bez mleka. Koszt takiego ekspresu to od 1000 złotych w górę. W tym przypadku nie jesteśmy jednak niczym ograniczeni – ani rodzajem kawy, ani też jej marką. Dlatego zdecydowanie warto dołożyć do tego typu ekspresu i cieszyć się pyszną kawą w domowym zaciszu. Jeżeli nie dysponujemy taką sumą wolnej gotówki, to pomocne może się okazać zaciągnięcie szybkiej pożyczki przez internet na ten cel. Pożyczone pieniądze zwrócimy po czasie, na jaki zaciągnęliśmy pożyczkę, a pyszną kawą będziemy mogli się cieszyć przez bardzo długi czas i bez żadnych ograniczeń.
Pierwsza pożyczka
Kolejna pożyczka
Koszt pożyczki

0 zł

0 zł

RRSO

0%

0%

Kwota do zwrotu

01.01.2021

0 zł

0 zł
Formularz informacyjny
Reprezentatywny przykład
Reprezentatywny przykład pożyczki internetowej na dzień 01.07.2021 r.:
Jednorazowa opłata rejestracyjna wynosi 0,01 zł. Dla przykładowej pożyczki na kwotę 1 000 zł na 30 dni RRSO, tj. Rzeczywista Roczna Stopa Oprocentowania wynosi 1926%, przy założeniach: całkowita kwota pożyczki 1 000 zł, stała roczna stopa oprocentowania RSO 7,2%, całkowity koszt 279,92 zł, w tym Prowizja 274 zł i odsetki kapitałowe 5,92 zł, a całkowita kwota do spłaty: 1 279,92 zł.
Promocja
Dla pierwszej pożyczki na warunkach promocyjnych "Pierwsza pożyczka za darmo" na kwotę 1 000 zł na 30 dni RRSO, tj. Rzeczywista Roczna Stopa Oprocentowania wynosi 0%, przy założeniach: całkowita kwota pożyczki 1 000 zł, stała roczna stopa oprocentowania RSO 0%, całkowity koszt 0 zł, w tym Prowizja 0 zł i odsetki kapitałowe 0 zł, a całkowita kwota do spłaty: 1 000 zł, z zastrzeżeniem terminowej spłaty.
Pożyczkodawcy udzielają również pożyczek na warunkach Promocyjnych, w tym pożyczek darmowych, zgodnie z warunkami ustalanymi w Regulaminach Promocji. Promocja obowiązuje pod warunkiem terminowej spłaty pożyczki.