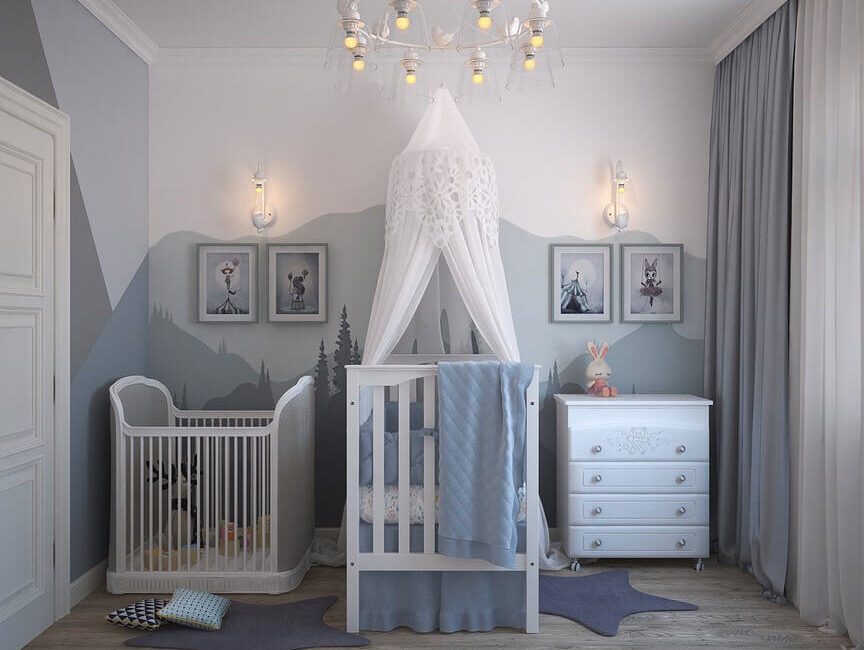 Wyprawka dla noworodka – Ile kosztuje?
Skompletowanie wyprawki dla noworodka to wyzwanie, które stoi przed każdym przyszłym rodzicem. I o ile przy kolejnym dziecku już mamy doświadczenie w tym temacie, to w przypadku pierwszego często błądzimy jak we mgle. Ile kosztuje wyprawka dla noworodka i czego nie może w niej zabraknąć?
Już na samym początku warto jasno zaznaczyć, że kompletując wyprawkę dla noworodka zdecydowanie nie warto jest się dać ponieść szałowi zakupowemu. Z prostego powodu – nie wszystko się nam przyda. Podobnie nie warto kupować całej masy malutkich, uroczych ubranek, bo nasz maluch szybko z nich wyrośnie. Jak więc z głową podejść do tematu wyprawki dla dziecka i ile pieniędzy przygotować na ten cel?
Czego potrzebuje małe dziecko? Podstawowa wyprawka dla noworodka
Chociaż ze szpitala do domu przynosimy ze sobą naprawdę malutkiego człowieka, to już ma pewne potrzeby i wymaga odpowiedniej pielęgnacji. Powinniśmy znaleźć odpowiedź na każdą z tych potrzeb, a to wymaga odpowiedniego przygotowania. Jakiego konkretnie? Na pewno nie powinno nam zabraknąć odpowiednich ubranek, rzeczy do spania, pierwszych kosmetyków i podstawowych artykułów higienicznych, a także rzeczy do spania, miejsca do spania i wózka. Oprócz tego mogą się nam przydać niektóre gadżety, jak na przykład elektroniczna niania czy popularny ostatnio szumiś. Wszystko to zależy jednak od indywidualnych potrzeb. Z tego też względu cena wyprawki dla noworodka może być różna. Bo i potrzeby rodziców, jak i konkretnego dziecka często również są różne. Jeżeli jednak musimy wprowadzić pewne oszczędności, żeby kupić dodatkowe gadżety, to w tym artykule przedstawiamy proste sposoby na domowe oszczędności.
Lista obowiązkowych zakupów dla noworodka
Z pewnością na listę obowiązkowych zakupów dla noworodka trzeba wpisać ubranka. Warto jednak wiedzieć, że w tej kwestii często zdarza się rodzicom przesadzić. Jednak wpływ na to mają tylko sami rodzice, ale nierzadko również rodzina i znajomi. Zdarzają się bowiem takie sytuacje, kiedy to rodzice sami wyposażą się we wszystkie niezbędne ubrania, a później drugie tyle dostają w prezentach. Dlatego też dobrze poinformować najbliższych, co się nam jeszcze może przydać, a czego już na pewno nie potrzebujemy. Wówczas unikniemy gromadzenia rzeczy, które z dużym prawdopodobieństwem okażą się niepotrzebne.
Z ubrankami dla noworodka w najmniejszym rozmiarze nie warto jest przesadzać, ze względu na to, że dzieci szybko rosną. Ubranka dla noworodka powinny być wykonane z wysokiej jakości bawełny, żeby nic naszemu maleństwu nie przeszkadzało i czuło się komfortowo. Na początku z pewnością warto się wyposażyć w kilka par body (przykładowo 4 pary z krótkim rękawem i 3 pary z długim), 6 pajacyków, 34 pary śpioszków, koszulki do zakładania pod pajacyki, kilka par skarpetek, co najmniej 2 pary bluz, 3 cienkie czapeczki bawełnianie i 2 śpiworki do łóżka. Zestaw ten modyfikujemy w zależności od pory roku przyjścia na świat naszego malucha. Za taki komplet możemy zapłacić około 300 zł.
Co poza ubrankami może się przydać?
Ubranka to nie wszystko, co powinno się znaleźć na liście "wyprawka dla noworodka". Musimy się wyposażyć również w rzeczy do spania – łóżeczko i pościel. Na pewno warto mieć rożek do otulania malucha, prześcieradło do łóżeczka i w późniejszym etapie śpiworki. Mogą się sprawdzić również otulacze i oddychające kocyki, na przykład do wózka. Jeżeli chodzi i miejsce snu dziecka, to mamy do wyboru standardowe łóżeczko i dostawkę do łóżka rodziców. Dostawka jest o tyle dobrym rozwiązaniem, że w nocy nie musimy daleko wstawać na karmienie, a ponadto mamy cały czas na oku nasze maleństwo. Cena łóżeczka to ok. 300 zł, dostawki natomiast 350-400zł.
Oprócz tego z pewnością przyda się nam wózek. Tutaj ceny są naprawdę różne, od 1000 zł do nawet 5000-6000zł. Nie możemy zapomnieć też o artykułach higienicznych i kosmetykach. Mowa tutaj o takich przedmiotach jak: pieluchy, płyny do mycia, wszelkiego rodzaju kremy, nożyczki do paznokci, płatki kosmetyczne, pieluchy tetrowe i flanelowe, termometr, proszek do prania, chusteczki pielęgnacyjne, czy termometr do mierzenia temperatury, gruszka do nosa. Wszystko to może kosztować łącznie około 300 złotych. Warto też dorzucić wanienkę – najprostsza kosztuje około 50 zł. Nie możemy zapomnieć też o butelkach i smoczkach, których koszt to około 60zł.
Wyprawka dla noworodka do szpitala
Warto wiedzieć, że nie wszystkie te rzeczy musimy zabierać ze sobą do szpitala. W szpitalnej torbie powinny się znaleźć m.in. rożek, ciepły kocyk, trzy zestawy body+pajacyk, 5 pieluszek tetrowych, około 10 pampersów, maść do pupy, opakowanie mokrych chusteczek, butelkę ze smoczkiem, trzy podkłady do przewijania. To w zupełności nam wystarczy. Należy pamiętać, żeby po powrocie do domu wszystkie rzeczy, których używaliśmy w szpitalu wyprać w najwyższej możliwej temperaturze, żeby zabić wszystkie bakterie.
Pierwsza pożyczka
Kolejna pożyczka
Koszt pożyczki

0 zł

0 zł

RRSO

0%

0%

Kwota do zwrotu

01.01.2021

0 zł

0 zł
Formularz informacyjny
Reprezentatywny przykład
Reprezentatywny przykład pożyczki internetowej na dzień 01.07.2021 r.:
Jednorazowa opłata rejestracyjna wynosi 0,01 zł. Dla przykładowej pożyczki na kwotę 1 000 zł na 30 dni RRSO, tj. Rzeczywista Roczna Stopa Oprocentowania wynosi 1926%, przy założeniach: całkowita kwota pożyczki 1 000 zł, stała roczna stopa oprocentowania RSO 7,2%, całkowity koszt 279,92 zł, w tym Prowizja 274 zł i odsetki kapitałowe 5,92 zł, a całkowita kwota do spłaty: 1 279,92 zł.
Promocja
Dla pierwszej pożyczki na warunkach promocyjnych "Pierwsza pożyczka za darmo" na kwotę 1 000 zł na 30 dni RRSO, tj. Rzeczywista Roczna Stopa Oprocentowania wynosi 0%, przy założeniach: całkowita kwota pożyczki 1 000 zł, stała roczna stopa oprocentowania RSO 0%, całkowity koszt 0 zł, w tym Prowizja 0 zł i odsetki kapitałowe 0 zł, a całkowita kwota do spłaty: 1 000 zł, z zastrzeżeniem terminowej spłaty.
Pożyczkodawcy udzielają również pożyczek na warunkach Promocyjnych, w tym pożyczek darmowych, zgodnie z warunkami ustalanymi w Regulaminach Promocji. Promocja obowiązuje pod warunkiem terminowej spłaty pożyczki.