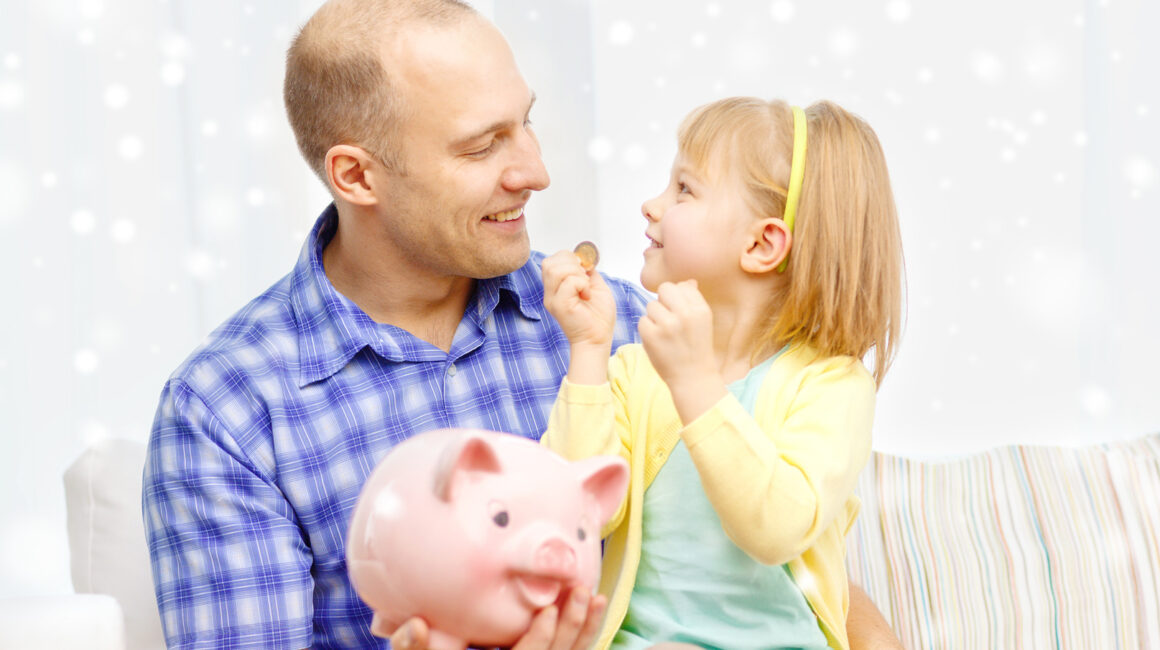 Świnka skarbonka uczy dziecko oszczędzania
W wychowaniu, tak samo jak w oszczędzaniu, bez dobrego przykładu się nie obejdzie. Dziecko wyrabia sobie dobre nawyki patrząc i obserwując rodziców. Dlatego już od najmłodszych lat, pokazujmy maluchowi, czym są pieniądze i jaką mają wartość.
A jak? Zobacz, dlaczego i w jaki sposób świnka skarbonka  uczy dziecko  oszczędzania! 
Świnka skarbonka – nauka przez zabawę 
Pieniądze powycinane z papieru i skrzętnie przygotowana witryna z towarem – to dobry początek do zabawy w sklep, a przy okazji edukacji. Maluch w roli sprzedawcy nauczy się, że każdy produkt ma określoną wartość. Do tego, poćwiczy liczenie i wydawania pieniędzy.
Gospodarowania gotówką można też nauczyć poprzez gry planszowe (np. Monopol) albo komputerowe o tematyce ekonomicznej. Gry dla dzieci znajdziemy na stronie internetowej Narodowego Banku Polskiego. Warto też odwiedzić strony internetowe dla dzieci w poszukiwaniu ciekawych propozycji.
Kieszonkowe – pierwsza lekcja oszczędzania
Wielu rodziców niechętnie powierza gotówkę dzieciom. To błąd. Kieszonkowe to fundament w edukacji finansowej. Dzięki niemu, nasz maluch uczy się gospodarowania pieniędzmi i poznaje ich wartość. Najważniejsze tylko, aby uświadomić mu, że kieszonkowe nie jest celem samym w sobie, a środkiem pozwalającym realizować jego małe marzenia. Dobrze jest zacząć od niższych kwot, dawanych na przykład raz w tygodniu. Za posprzątanie pokoju czy dobre oceny warto dorzucić coś ekstra. Będzie to dobra motywacja, zarówno do nauki, jak i wykonywania domowych obowiązków.
Pamiętajmy tylko o jednym. Nie kontrolujmy nadto wydatków dziecka. Pozwólmy mu uczyć się na własnych błędach. Nadmierna ingerencja, może zniechęcić dziecko do samodzielnego i efektywnego gospodarowania pieniędzmi.
Trudne słowa: karta kredytowa, kredyt, chwilówka online
Badanie TNS pokazało, że aż 92 % z nas uważa, że wczesna edukacja finansowa, może pomóc w codziennym życiu. Co 3 osoba jest zdania, że dziecko już w szkole podstawowej powinno poznać podstawy odpowiedzialnego zarządzania wydatkami.
Brak edukacji finansowej sprawia, że dziecko nie zna wartości pieniądza oraz nie umie racjonalnie nim gospodarować. Warto więc chodzić z naszą pociechą na zakupy, a nawet do banku. Wytłumaczenie przecież, jak działa szybki kredyt przez internet nie jest wcale tak skomplikowane. Ważne jest, aby maluch zrozumiał, że np. szybka pożyczka przez internet z założenia nie jest niczym złym,  tyle że wiąże się z określonymi kosztami, z których trzeba sobie zdawać sprawę.
7 PRZYKAZAŃ EDUKACJI FINANSOWEJ DZIECKA
Skarbonka uczy cierpliwości i oszczędności
Wspólne zakupy z dzieckiem to podstawa, a przed nimi – zrób wspólnie z dzieckiem listę rzeczy do kupienia
Zamiast kilku czekolad, można kupić zestaw lego. Naucz dziecko, że oszczędzając na drobnych przyjemnościach, pomoże zrealizować konkretne marzenie
Ucz dziecko oszczędzania wody, prądu, jedzenia. Dawaj dobry przykład!
Kieszonkowe to podstawa edukacji finansowej!
W prosty sposób, wytłumacz pociechom co to jest: karta kredytowa, kredyt, dług, pożyczka, chwilówka na dowód itp.
Zaangażuj dziecko do prac domowych. W nagrodę dorzuć coś ekstra do kieszonkowego. To najprostsza metoda, aby pokazać, że na pieniądze trzeba zapracować.
Pierwsza pożyczka
Kolejna pożyczka
Koszt pożyczki

0 zł

0 zł

RRSO

0%

0%

Kwota do zwrotu

01.01.2021

0 zł

0 zł
Formularz informacyjny
Reprezentatywny przykład
Reprezentatywny przykład pożyczki internetowej na dzień 01.07.2021 r.:
Jednorazowa opłata rejestracyjna wynosi 0,01 zł. Dla przykładowej pożyczki na kwotę 1 000 zł na 30 dni RRSO, tj. Rzeczywista Roczna Stopa Oprocentowania wynosi 1926%, przy założeniach: całkowita kwota pożyczki 1 000 zł, stała roczna stopa oprocentowania RSO 7,2%, całkowity koszt 279,92 zł, w tym Prowizja 274 zł i odsetki kapitałowe 5,92 zł, a całkowita kwota do spłaty: 1 279,92 zł.
Promocja
Dla pierwszej pożyczki na warunkach promocyjnych "Pierwsza pożyczka za darmo" na kwotę 1 000 zł na 30 dni RRSO, tj. Rzeczywista Roczna Stopa Oprocentowania wynosi 0%, przy założeniach: całkowita kwota pożyczki 1 000 zł, stała roczna stopa oprocentowania RSO 0%, całkowity koszt 0 zł, w tym Prowizja 0 zł i odsetki kapitałowe 0 zł, a całkowita kwota do spłaty: 1 000 zł, z zastrzeżeniem terminowej spłaty.
Pożyczkodawcy udzielają również pożyczek na warunkach Promocyjnych, w tym pożyczek darmowych, zgodnie z warunkami ustalanymi w Regulaminach Promocji. Promocja obowiązuje pod warunkiem terminowej spłaty pożyczki.