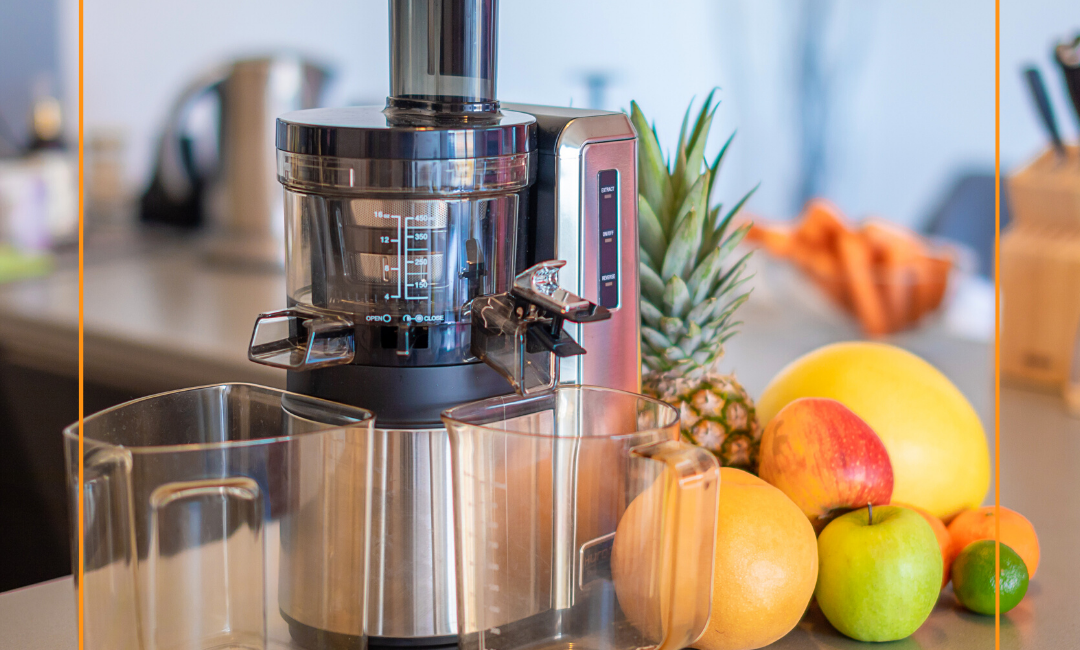 Sokowirówka czy wyciskarka wolnoobrotowa – co wybrać?
W okresie zimowym i jesiennym nasza odporność spada, dlatego staramy się wzmacniać nasz organizm i zapobiegać przeziębieniom. Dlatego dobrym pomysłem jest spożywanie codziennej porcji witamin – a te z pewnością zapewnią świeżo wyciskane soki. Ale jaki sprzęt do tego wybrać? Lepiej sprawdzi się wyciskarka do soków, czy sokowirówka?
Oba te urządzenia – sokowirówka i wyciskarka obrotowa mają takie samo zastosowanie. Pomagają w produkcji świeżo wyciskanych, domowych soków. Mogłoby się wydawać, że skoro urządzenia te służą do tego samego, to ich nazw możemy używać zamiennie. Nic bardziej mylnego – to są różne urządzenia, które są odpowiedzią na różne potrzeby. Warto wiedzieć, jakie mają wady i zalety, by podjąć świadomą decyzję o zakupie wyciskarki wolnoobrotowej, lub sokowirówki. Oba te sprzęty różnią się nie tylko ceną, ale również metodą działania, a nawet właściwościami przygotowanych za ich pomocą domowych soków.
Co jest lepsze – wyciskarka wolnoobrotowa do soków, czy sokowirówka?
Przed zakupem powinniśmy sobie odpowiedzieć na kilka pytań, które zdecydowanie ułatwią podjęcie decyzji. Po pierwsze – z jakich produktów planujesz przygotowywać sok? Jeśli bierzesz pod uwagę tylko i wyłącznie twarde warzywa i owoce, to sokowirówka z pewnością sobie z nimi poradzi. Jeśli jednak jesteś wielbicielem soków z dodatkiem szpinaku, jarmużu, czy nawet mięty – to odpowiedzią na Twoje potrzeby będzie wyciskarka wolnoobrotowa. Sokowirówka nie poradzi sobie z tego typu produktami.
Nie bez znaczenia jest również konsystencja produktu końcowego, jaką zamierzamy uzyskać. Jeżeli myśląc o soku wyobrażamy sobie klarowny płyn niczym z kartonu, to sokowirówka właśnie taki nam zapewni. Jeżeli jednak jesteśmy fanami nieco gęstszego soku, który ma w sobie kawałki miąższu, to wyciskarka wolnoobrotowa będzie strzałem w dziesiątkę.
Zdrowy sok – z sokowirówki, czy wyciskarki wolnoobrotowej?
Przed zakupem musimy sobie również zdawać sprawę z tego, że nie bez znaczenia jest fakt, że wyciskarki są wolnoobrotowe, natomiast sokowirówki pracują na wysokich obrotach. Ma to bowiem przełożenie na jakość soku. Dzięki wolnym obrotom, sok zachowuje zdecydowanie więcej wartości odżywczych. Sok z wyciskarki wolnoobrotowej zachowuje właściwości produktów, z jakich jest wytworzony. Z tego też względu można stwierdzić, że soki z wyciskarki wolnoobrotowej są po prostu zdrowsze.
Ile kosztuje wyciskarka wolnoobrotowa do soków, a ile sokowirówka?
Sokowirówki są zdecydowanie popularniejszym i tańszym urządzeniem. Całkowicie odpowiadają potrzebom osób, które soki piją dla smaku. Najprostsze modele możemy kupić już za niewiele ponad 100 złotych, natomiast bardziej zaawansowane to koszt około 300 złotych. Z kolei za wyciskarkę wolnoobrotową zapłacimy od 500 zł za najprostsze modele, do nawet 1000 złotych za te ze średniej półki.
W chłodniejsze dni zdecydowanie warto jest się wspierać dodatkową porcją witamin, która pod postacią soku smakuje naprawdę dobrze. W ten sposób łączymy przyjemne z pożytecznym. Jeżeli jednak w naszym domowym budżecie nie mamy miejsca na taki wydatek, to Pożyczka Plus przychodzi z pomocą. Korzystając z takiej pożyczki przez Internet bez trudu możemy sobie pozwolić na zakup porządnej wyciskarki wolnoobrotowej, która codziennie będzie dostarczała witaminowe uczty do naszego organizmu. Sprawdź jak możesz bezpiecznie pożyczyć pieniądze i cieszyć się nową sokowirówką lub wyciskarką obrotową już teraz.
Pierwsza pożyczka
Kolejna pożyczka
Koszt pożyczki

0 zł

0 zł

RRSO

0%

0%

Kwota do zwrotu

01.01.2021

0 zł

0 zł
Formularz informacyjny
Reprezentatywny przykład
Reprezentatywny przykład pożyczki internetowej na dzień 01.07.2021 r.:
Jednorazowa opłata rejestracyjna wynosi 0,01 zł. Dla przykładowej pożyczki na kwotę 1 000 zł na 30 dni RRSO, tj. Rzeczywista Roczna Stopa Oprocentowania wynosi 1926%, przy założeniach: całkowita kwota pożyczki 1 000 zł, stała roczna stopa oprocentowania RSO 7,2%, całkowity koszt 279,92 zł, w tym Prowizja 274 zł i odsetki kapitałowe 5,92 zł, a całkowita kwota do spłaty: 1 279,92 zł.
Promocja
Dla pierwszej pożyczki na warunkach promocyjnych "Pierwsza pożyczka za darmo" na kwotę 1 000 zł na 30 dni RRSO, tj. Rzeczywista Roczna Stopa Oprocentowania wynosi 0%, przy założeniach: całkowita kwota pożyczki 1 000 zł, stała roczna stopa oprocentowania RSO 0%, całkowity koszt 0 zł, w tym Prowizja 0 zł i odsetki kapitałowe 0 zł, a całkowita kwota do spłaty: 1 000 zł, z zastrzeżeniem terminowej spłaty.
Pożyczkodawcy udzielają również pożyczek na warunkach Promocyjnych, w tym pożyczek darmowych, zgodnie z warunkami ustalanymi w Regulaminach Promocji. Promocja obowiązuje pod warunkiem terminowej spłaty pożyczki.