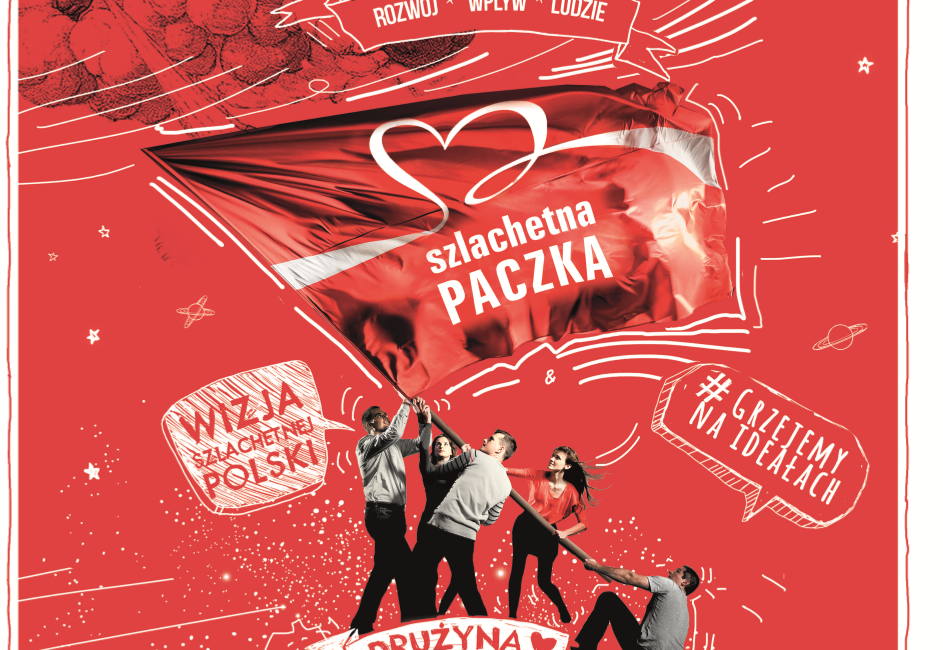 Prezentujemy się szlachetnie
Blisko 90 proc. Polaków jest zdania, że działając wspólnie, można osiągnąć więcej niż samemu[1].  Dlatego już dziś zorganizuj w swojej pracy akcję charytatywną. Może to być "Szlachetna Paczka" albo inny szczytny cel. Z inicjatywą wyjść może sam szef albo pracownicy. Największą korzyścią będzie oczywiście pomoc potrzebującym, a w gratisie firma zyska skuteczny "team building". 
Jest wiele sposobów na pomoc tym, którzy naprawdę tego potrzebują. Pomóc można indywidualnie lub jako firma. Można też połączyć jedno z drugim i zainicjować tzw. wolontariat pracowniczy. Sprawdzi się on zarówno w dużej, jak i mniejszej firmie. Wcale nie potrzeba tu dużych zasobów finansowych ani ludzkich.  – Nic tak nie integruje zespołu jak wspólny, społeczny cel. Tuż przed świętami takim celem dla naszej firmy jest projekt "Szlachetna Paczka", w który zaangażowaliśmy wszystkich pracowników. Wspólnie przygotujemy paczki dla rodzin, które tej pomocy potrzebują – mówi Edwin Milewski, szef firmy Mała Pożyczka Sp. z o. o.
Pomóż i zyskaj lojalność pracowników
Według badań organizacji Business in the Community firma, która stwarza sprzyjające warunki dla wolontariatu zyskuje to, że pracownicy są z niej dumni oraz mają większą motywację do pracy. To również skuteczniejsza forma "team building" aniżeli imprezy integracyjne. Te same badania pokazują także, że aż o 2/3 wzrasta przywiązanie pracowników do firmy, która pomaga potrzebującym i realizuje liczne programy społeczne.
CSR w małej firmie
Czy społeczna odpowiedzialność biznesu to domena jedynie dużych korporacji? Nie. Mitem jest, że tylko duża firma, z ogromnym budżetem może pozwolić sobie na podejmowanie społecznych kampanii, w tym również wolontariatu pracowniczego. W CSR nie chodzi jedynie o pieniądze. Istotą jest dzielenie się również wartością intelektualną, wiedzą ekspertów czy innymi np. rzeczowymi zasobami. Spółka Mała Pożyczka – właściciel serwisu Pożyczka Plus – na co dzień oferuje szybkie pożyczki przez internet, a od święta zawsze stara się pomóc tym, którzy tej pomocy realnie potrzebują.
Co zyskujemy jako firma? 
Firmy angażują się w społeczną odpowiedzialność biznesu, aby poprawić swój wizerunek. Lepsze postrzeganie marki wpływa bowiem na większą lojalność klientów, pracowników i innych interesariuszy. Potwierdzają to najświeższe badania Barometr CSR 2016, przeprowadzone przez CSR Consulting i Maison & Partners. Pokazują, że aż 72 proc. konsumentów deklaruje, że społeczne działania wzbudzają ich pozytywne odczucia wobec firm. To o 10 pkt. proc. więcej niż dwa lata temu.
Akcja charytatywna last minute
Może "Szlachetna Paczka"? To akcja charytatywna, którą możesz w bardzo prosty sposób wdrożyć zarówno w większej, jak i niewielkiej firmie. Wystarczy tylko:
Wybrać wspólnie z pracownikami rodzinę, której pomożecie, jako zespół
Skompletować paczkę
Dostarczyć paczkę rodzinie
[1] "Dzieląc się, pomagasz Raport o dobroczynności Polaków", przygotowany na podstawie badania TNS Polska, przeprowadzonego na zlecenie marki Milka oraz stowarzyszenia Szlachetna Paczka, 14-19 listopad 2015  roku.
Pierwsza pożyczka
Kolejna pożyczka
Koszt pożyczki

0 zł

0 zł

RRSO

0%

0%

Kwota do zwrotu

01.01.2021

0 zł

0 zł
Formularz informacyjny
Reprezentatywny przykład
Reprezentatywny przykład pożyczki internetowej na dzień 01.07.2021 r.:
Jednorazowa opłata rejestracyjna wynosi 0,01 zł. Dla przykładowej pożyczki na kwotę 1 000 zł na 30 dni RRSO, tj. Rzeczywista Roczna Stopa Oprocentowania wynosi 1926%, przy założeniach: całkowita kwota pożyczki 1 000 zł, stała roczna stopa oprocentowania RSO 7,2%, całkowity koszt 279,92 zł, w tym Prowizja 274 zł i odsetki kapitałowe 5,92 zł, a całkowita kwota do spłaty: 1 279,92 zł.
Promocja
Dla pierwszej pożyczki na warunkach promocyjnych "Pierwsza pożyczka za darmo" na kwotę 1 000 zł na 30 dni RRSO, tj. Rzeczywista Roczna Stopa Oprocentowania wynosi 0%, przy założeniach: całkowita kwota pożyczki 1 000 zł, stała roczna stopa oprocentowania RSO 0%, całkowity koszt 0 zł, w tym Prowizja 0 zł i odsetki kapitałowe 0 zł, a całkowita kwota do spłaty: 1 000 zł, z zastrzeżeniem terminowej spłaty.
Pożyczkodawcy udzielają również pożyczek na warunkach Promocyjnych, w tym pożyczek darmowych, zgodnie z warunkami ustalanymi w Regulaminach Promocji. Promocja obowiązuje pod warunkiem terminowej spłaty pożyczki.