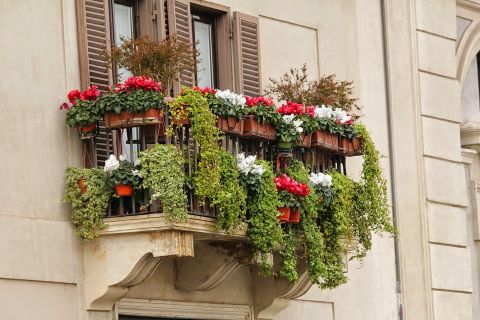 Kwiaty idealne na balkon – jakie wybrać?
W ciepłe dni zdecydowanie chętniej spędzamy czas na balkonie, korzystając z ładnej pogody. Dlatego warto zadbać o przyjemne otoczenie. Takie z pewnością zapewnią starannie wybrane rośliny. Jakie się najlepiej sprawdzą w takich warunkach? Wybieramy najlepsze kwiaty na balkon!
Odpowiednio dobrane rośliny z pewnością są w stanie sprawić, że nasz balkon będzie budził zachwyt. Wybór kwiatów odpowiednich na balkon jest naprawdę szeroki. Dlatego nie warto decydować się na gatunki, które są wymagające w pielęgnacji i nie jesteśmy pewni, czy w ogóle podołamy temu zadaniu. Bez problemu znajdziemy bowiem takie kwiaty na balkon, które nie wymagają zbyt wiele naszej uwagi, a mimo to wyglądają pięknie! A w przypadku braku funduszy na urządzenie balkonu, warto się zdecydować na pożyczkę krótkoterminową, która nas wesprze w realizacji tego marzenia.
Jakie kwiaty sprawdzą się na balkonie?
Najokazalszym wyborem rośliny na balkon jest petunia kaskadowa. Kwiaty tej rośliny najczęściej są koloru fioletowego, białego, jak również jasnożółtego i czerwonego. Bez wątpienia najpiękniej pachną te w odcieniach fioletu, więc decydując się na takie kwiaty balkonowe będziemy mogli się cieszyć nie tylko ich pięknym wyglądem, ale również wspaniałym zapachem. Warto jednak pamiętać, że wymaga dość dużo uwagi z naszej strony – w upały należy ją podlewać nawet 2 razy dziennie i nawozić specjalnym nawozem do tego typu roślin. Dodatkowo źle znosi również silne opady u wiatr, z tego względu nie sprawdzi się w przypadku osób mieszkających na wyższych piętrach.
Pięknym kwiatem balkonowym jest również stroiczka. Zazwyczaj ma ona kolor błękitny, ale są również lobelie białe, fioletowe i różowe. Taka roślina na balkonie robi duże wrażenie, ale wymaga stale wilgotnej ziemi. Warto mieć to na uwadze, jeżeli zdecydujemy się na zakup takiej rośliny na balkon.
Niewymagające kwiaty na balkon
Innym przykładem popularnej rośliny balkonowej jest pelargonia. Coraz częściej decydujemy się na to, żeby kwiat ten był ozdobą naszego balkonu. I nie ma w tym nic dziwnego – tworzy pięknie i bujne kaskady, które skradną serce każdego wielbiciela roślin. Warto również zaznaczyć, że nie jest rośliną łatwo usychającą, ale ma dość kruche pędy.
Rośliną niezbyt wymagającą w uprawie jest również begonia. Ma ona nie tylko piękne kwiaty, ale również jej liście mają pewne walory estetyczne, dzięki którym może się naprawdę podobać. Warto jednak wiedzieć, że roślina ta nie lubi mocno nasłonecznionych miejsc, więc w jej przypadku najlepszym wyborem będzie raczej zacieniony balkon. Musimy jej zapewnić żyzną i wilgotną glebę, a obdarzy nas pięknymi kwiatami nie tylko przez całe lato, ale nawet do października.
Pożyczka na urządzenie balkonu
Jeżeli nie możesz już patrzeć na to, jak wygląda Twój balkon to najwyższa pora coś z tym zrobić. Na przeszkodzie stoją Ci finanse, zbyt mało środków na koncie? Możesz to zmienić! Wystarczy zawnioskować o pierwszą pożyczkę za darmo na naszej stronie. W ten sposób możesz pożyczyć kwotę nawet do 3000 złotych na okres 30 dni. Pozwoli Ci ona nie tylko kupić wymarzone kwiaty na balkon, ale również wygodne meble gwarantujące relaks po ciężkim dniu pracy.
Pierwsza pożyczka
Kolejna pożyczka
Koszt pożyczki

0 zł

0 zł

RRSO

0%

0%

Kwota do zwrotu

01.01.2021

0 zł

0 zł
Formularz informacyjny
Reprezentatywny przykład
Reprezentatywny przykład pożyczki internetowej na dzień 01.07.2021 r.:
Jednorazowa opłata rejestracyjna wynosi 0,01 zł. Dla przykładowej pożyczki na kwotę 1 000 zł na 30 dni RRSO, tj. Rzeczywista Roczna Stopa Oprocentowania wynosi 1926%, przy założeniach: całkowita kwota pożyczki 1 000 zł, stała roczna stopa oprocentowania RSO 7,2%, całkowity koszt 279,92 zł, w tym Prowizja 274 zł i odsetki kapitałowe 5,92 zł, a całkowita kwota do spłaty: 1 279,92 zł.
Promocja
Dla pierwszej pożyczki na warunkach promocyjnych "Pierwsza pożyczka za darmo" na kwotę 1 000 zł na 30 dni RRSO, tj. Rzeczywista Roczna Stopa Oprocentowania wynosi 0%, przy założeniach: całkowita kwota pożyczki 1 000 zł, stała roczna stopa oprocentowania RSO 0%, całkowity koszt 0 zł, w tym Prowizja 0 zł i odsetki kapitałowe 0 zł, a całkowita kwota do spłaty: 1 000 zł, z zastrzeżeniem terminowej spłaty.
Pożyczkodawcy udzielają również pożyczek na warunkach Promocyjnych, w tym pożyczek darmowych, zgodnie z warunkami ustalanymi w Regulaminach Promocji. Promocja obowiązuje pod warunkiem terminowej spłaty pożyczki.